"We Treat Active Adults of All Levels and Abilities Who Are Sidelined Because of an Injury and We Help Them Return to Their Active Lifestyles Faster, Without the Need for Pain Medications, Injections or Surgeries."
Watch this 2 minute video that explains exactly how AID Performance Physical Therapy helps people like you!
Claim Your Free Guide
Before You Hire Your Next PT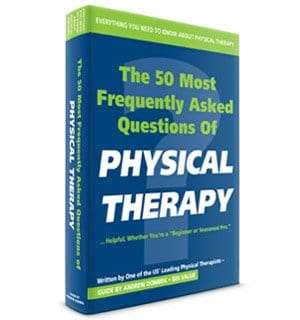 The Top 50 FAQs of Physical Therapy - All Answered Honestly In One FREE Special Report You Can See Instantly
"Fill Out The Form To Get YOUR Special Report That Answers The 50 Most Frequently Asked Questions About Physical Therapy"
Leave Your Details And Get All This Advice NOW...
Want Help to Decide if Physical Therapy is Right For You?
Free Discovery Session
We realize some people maybe "unsure" if physical therapy is the right option for them. It could be that you're not sure it'll work, or whether we can help with what you've got, or maybe you had a bad experience somewhere in the past? If that sounds like you and you'd like to come in and see for yourself how AID Performance Physical Therapy can help you; please fill out the short form below and tell us more about you so we can answer your questions:
Apply for a Free Discovery Session »
Talk to a Physical Therapist First
If you are not quite ready to move forward with booking an appointment with a Physical Therapist; perhaps you have some questions and think it would be better to speak to someone at AID Performance Physical Therapy first (so you can be 100% sure that we can help you), please click the button below and fill out the short form to schedule a call. One of our Physical Therapists will answer all of your questions over the phone completely for free:
Arrange your Free Phone Consult »
Please note: there is no treatment given at one of our free discovery sessions. It's for you to ask us more questions and for us to confirm whether or not we think we can help you.
About AID Performance Physical Therapy
Whether you've come looking for a Physical Therapist's advice because your in-network therapist has not met your expectations, you are tired of hearing take the same old  "you need to stop exercising and take two of these a day and call me in a few weeks" option that is nearly always advised by the family practitioner, or you're VERY health conscious and already know that a Physical Therapy specialist's advice IS your BEST option...
What People Are Saying About AID Performance Physical Therapy...
Christie, Early 40s, Ashburn
I am a busy mother of two and a yoga instructor. I came to AID PPT for pre-op and post-op therapy and rehabilitation for my rotator cuff and bicep tendon. My goal was to return to full use of my shoulder in order to resume performing and teaching yoga without difficulty or pain. I chose AID PPT because of their reputation for comprehensive and professional physical therapy. I also appreciated each therapist used the latest knowledge and modalities for treatment. I received great care from Drew, Matt and Andrew. They exceeded my expectations! Consistent, reliable, friendly and professional care! I have recommended AID PPT to others because of my overwhelming positive care and the success of my recovery!

Rosemarie

Late 40s, Brambleton
I heard great things about Andrew and his staff. I play a lot of sports and wanted to make sure I got back to 100% to play basketball and other sports. They specialize in sports PT and have a great reputation. For my left knee I came in for PT before surgery and I am much further ahead (because of that) now coming out of surgery. I also had chronic neck pain  and was not able to look over my right shoulder, Andrew recommended that I should try dry needling.  It was amazing!  I was very sore afterwards but I was able to look over my right shoulder for the first time in 6 months. Since I started with AID my *Quality of life* has really improved. AID PPT exceeded my expectations and I would recommend this practice to anyone. Very professional and courteous staff who I am confident in their abilities to get me back to 100% for my knee and improve the quality of life with my neck!*

Justin

Early 40s, Brambleton
(Results may vary from person to person)
Claim One Of Our Currently
Free Special Tips Reports

And Follow The Advice Inside To Start
Making Progress Right Away...
Ease foot or ankle pain and get back to exercising again within days.
Want Some Help To Get There
Faster

?
Choose Which One Works Best For You...
Just click one of the buttons above and then fill out the simple form.
FREE WORKSHOP
What is BEMER?
BEMER is designed to improve circulation thereby supporting the body's natural self-regulating processes. Blood is the body's universal means of transportation. Oxygen, nutrients, chemical messengers (e.g., hormones) and immune cells are all transported through our blood. When our body's cells, tissues and organs are adequately nourished and metabolic waste products are removed, our bodies maintain a healthy balance and function properly. The optimal regulation of circulation is a prerequisite for ensuring good levels of health and fitness.
To find out more information on how the Bemer can help you or help your heath and wellness practice make more $ come join us on Saturday January 18th at 10:00.
At our office in Ashburn VA located at 20295 Professional Plaza Suite 110
FREE Strength Training Seminar:
Achieve Your Running Goals
At our office in Ashburn VA located at 20295 Professional Plaza Suite 110
Check Out This Upcoming Event:
Self-massage to release muscle tightness or trigger points
Saturday, September 28th, 2019
9:00-10:00 AM at AID Performance Physical Therapy, 20925 Professional Plaza, Suite 101, Ashburn, VA 2018