It's the moment that all dancers and their instructors dread. You've broken your ankle or sprained your knee… the worry sets in; will I ever dance again. Most dancers will utter this phrase at least once in their lifetime.  Based on the expectation of what the human body can accomplish, an injury is always a possibility for any dancer.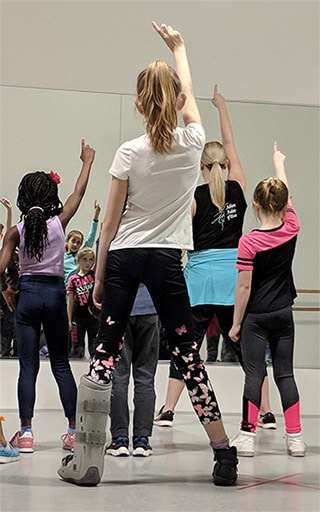 When you're dealing with injury it can turn into an identity crisis. You're forced to take time off from the thing you are most passionate about. Dancers spend so much time taking classes, rehearsing and performing that to stop all of this does not just have a physical impact but also a mental impact. Dancers will sometimes even ask themselves, "if I'm not a dancer, who or what am I?" A dancer can sometimes feel shocked or frustrated that the body they have spent training has now forced him/her to take time off.
The most important thing you can do on at the beginning of this journey is to relax, breath and remember that so many extraordinary dancers have suffered from an injury at one point in time and have been able to return to the stage stronger. At times you may feel frustrated or scared that you may not be able to return to the dance floor but I am here to tell you that with the proper treatment in addition to strength training you will be back on stage and possibly go further than you could have imagined.
Instead of reacting to dance injuries when they occur, we must be proactive and keep them from happening.  If any of you are former dancers, you know all too well that dance injuries can always come back to haunt you later in life without the proper treatment and strength training.  Additionally, Proper warm ups of your your body before hitting the dance floor can reduce your risk of injuries. Every dance practice and performance should begin with a warm-up to prepare your body, and end with a cool-down to start your post-dance recovery.
At AID Performance Physical Therapy not only can we rehab you back from that injury but with our Return to Play program we can provide you with the proper strength training to ensure you are fully prepared to get back to the stage.
On April 7th, Strength training expert and Physical Therapist Matt Difede will be putting on a seminar regarding proper form and what exercises you should be doing to improve your performance.  The seminar will be held at our office in Ashburn VA located at 20295 Professional Plaza Suite 110.  Register now. Space is limited.
REMEMBER:  You are an athlete and your field is the stage !!!

Latest posts by Andrew Dombek, PT, MSPT, CMTPT, CGFI
(see all)