Hey there, it's Andrew Dombeck from AID Performance Physical Therapy. I'm live from inside the AID Performance Physical Therapy studio. I want to tell you guys what's going on here. It's October, and it is physical therapy month. Yes, it's also Pinktober, breast cancer awareness, but it's also physical therapy month, and I want to tell you about some of the new services that we're offering at AID Performance Physical Therapy.
We have Melissa Baldwin. She is our licensed massage therapist, and she is offering some great specials this month, free chair massages, as well as a discount. You have to call us at the office at 703-723-6758. Call and speak to Christina, Jen, or Brian, and ask them, what's the special for this month.
Then, we also have Angela Mari. She is our integrative health coach and, man, she is busy. She's hard to get in to. I would call now if you want to get in and find out what she can do with digestive issues. She can help with swelling. She can help with weight loss, diabetes. There's so many things that she can help you with, improving your performance as an athlete, as a runner, malnutrition.
I also wanted to speak to you about something that's come up several times over the last couple weeks, once again, direct access. Oftentimes, patients are complaining to us that they go see the primary care specialist, urgent care, and sometimes even the orthopedist, and they go to the doctor, they say, "All right, I want you to rest. Here's some generic exercises, and here's some medication, and you take that." Well, that's great, but what happens is, is it doesn't really fix the problem, and when you rest, scar tissue forms wherever you've injured. And then, when you do have to finally come in to get physical therapy, we not only have to treat the injury, but we also have to treat the scar tissue and the restrictions that have come about as a result of that.
So, the patient was saying, "Well, can I just come to see you next time?" And I said, "Yes." In Virginia, we are allowed to evaluate and treat you without a doctor's order for 30 days. So, you could get 10, 12 sessions in in a matter of 30 days, and then, at that point, if we think you need more PT, we can send you to your primary care doctor, or we can send you out to orthopedists.
We, also, if you're not sure what you want to do, we also offer free discovery sessions. Melissa also offers free discovery sessions to see if massage is something that you need, as well as Angela, also, offers them. What it is, you come in and speak to one of our experts in their field, and you ask them questions. We find out what your goals are and how we would go ahead and treat people like you. We see lots of people with all sort of injuries, back pain, neck pain, Achilles tendonitis, plantar fasciitis, patellar tendonitis, all sort of injuries that don't require you to go see a doctor to get x-rays.
I don't want to offend anyone. I think doctors are great, but if you're going to go see a doctor for an upset stomach, or for a cough, or allergies, and that's what they do a lot of, and we see muscular/skeletal injury, muscle strains, joint pain, all sorts of sports injuries, why not go to the people who do that all the time rather than going to the same doctor that you would go to with stomach problems?
So, give us a call, 703-723-6758, if you're interested in a free discovery session with our expert physical therapists, if you're interested in getting massage from Melissa, or you want to learn more about how Angela Mari can help you with your dietary needs.
Thank you for tuning in. I look forward to hearing more of your questions. Thanks. Stay good.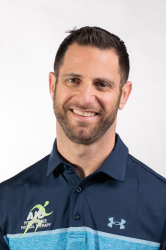 Latest posts by Andrew Dombek, PT, MSPT, CMTPT, CGFI
(see all)