In 2008, the state of Virginia, became a direct access state. Do you know what this means? Do you know how this will affect your wallet? In reference to the graph illustration above, this means huge savings for you as the healthcare consumer.
It means NOT having to:
Wait to go see the orthopedist (if you can even get an appointment with them quickly)
Go see your general practitioner (because you could get an appointment faster), who will recite the same old, costly advice of rest, pain pills, go get an X-Ray, and/or then go to the Orthopedist or Physical Therapy
Expose yourself to radiation, because they will always tell you to get an X-Ray, even if it just a sprained muscle
End up losing valuable time you could have spent doing your favorite hobbies and activities, and money, by paying all of the fees and costs associated with these doctor.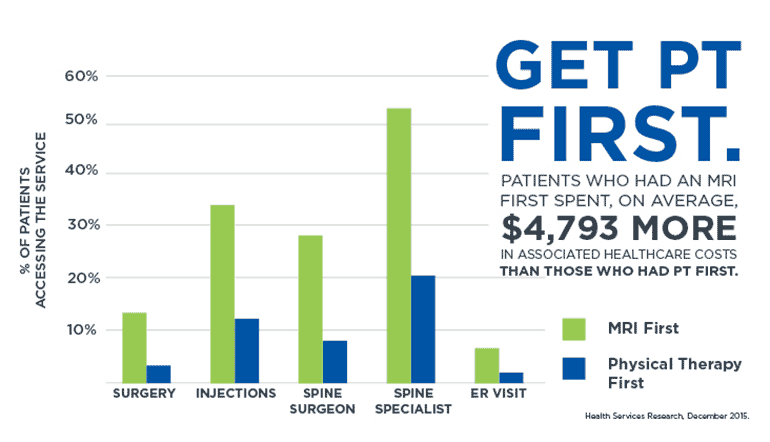 Interested in Physical Therapy But Don't Want To Go Through The Hassle of Getting a Doctor's Prescription
So what is Direct Access?
Direct access means that you are not required to have prescription to come in for physical therapy (except for HMO, Medicare, and MDIPA**)!
Per Virginia state law, we can see you for 30 days without needing a prescription. After those 30 days, we can continue therapy by getting a prescription or wait for 30 days until you can come in again without a prescription.
This is the perfect option for those who do not have a doctor, know that their injury is not serious, and want to get back to their active lifestyle ASAP. Direct access is great for those who do not have time to or have not seen their doctor for their specific issue, people who are cost conscious especially when the Orthopedist may try to suggest surgery, X-Rays, or MRIs, all of which are quite costly, even with insurance.
The great thing about AID Performance Physical Therapy is that if you mention this email you will receive a complimentary discovery session ($125 value) with one of our Injury Experts! A discovery session is a great way to get free medical advice if you are unsure of which route you want to take. We can go over your signs and symptoms and determine if we can help you or if it is better that you go see the doctor first.
Yes, I said Complimentary! NO RISK!
I have been a certified Direct Access Physical Therapist since 2008. Any Physical Therapist with a Doctorate is automatically qualified (through training at school) to be one as well. Even better is that Dr. Caitlin Lucas does not only have her Doctorate in Physical Therapy, but is also certified as an Athletic Trainer (ATC), meaning she has lots of experience diagnosing injuries that occur right on the field! You cannot beat that!
The Direct Access route of entry into the healthcare system is great for athletes who are in the midst of their season or training and are not looking to hear that they need to stop and rest along with taking pain meds. As experts in Sports Medicine, we know that rest and immobilization is over-prescribed and results in not only having to treat the injury, but also having to treat the scar tissue and fascial restrictions.
Our motto is "Modifying activities and retraining muscles and form will get you back in action fast!"
By going directly to therapy without having to wait to get a prescription, you can begin treatment earlier, which will result in quicker recovery and a faster return to activities.
If you have been on the fence about coming to Physical Therapy, but have been dreading going to your primary doctor or seeking out a prescription, don't worry!
Give the office a call today at 703-723-6758 to get you back to doing what you love, pain-free or click one of the following links to schedule your Complimentary Discovery Visit or Initial Evaluation.

Latest posts by Andrew Dombek, PT, MSPT, CMTPT, CGFI
(see all)