"Announcing A Physical Therapy Clinic In Ashburn VA, PERFECT For Athletes Who DON'T Like Relying Upon Painkillers & Who Prefer NATURAL, Specialist Solutions To END Pain So They Can Run Further And Faster For Longer..."
Most People Ask Our Clients "What's So Special About AID Performance Physical Therapy…"
Whether you've come looking for Physical Therapist's advice because your in-network therapist has not met your expectations, you are tired of hearing take the same old  "you need to stop exercising and take two of these a day and call me in a few weeks" option that is nearly always advised by the family practitioner, or you're VERY health conscious and already know that a Physical Therapy specialist's advice IS your BEST option. You're about to ENJOY the same transformation in your health as thousands of others who have seen proven results in their ability to keep ACTIVE and watched as their pain levels drop, faster than they ever thought possible.
To hear inspiring stories of hope for a future free from pain and stiffness, as well as perseverance and triumph over the "painkillers and rest" advice given out to so many by the primary care doctors; please go ahead and click the green button on this page. When you do, you'll hear real stories from real clients like…
Why our clients find almost instant RELIEF… and all because they've found a Physical Therapy clinic that DOES do "hands-on" style treatment that involves Massage, Stretching and Joint Manipulation, which really do make a difference FAST…
Why you're NOT likely to be on your own if you've been given "poor" advice to REST or "just do some exercises" by your Family Doctor…
WHO exactly goes and what kind of CULTURE really exists at Andrew Dombek's AID Performance Physical Therapy Place…
The "Secret Weapons" that create an EXPERIENCE unrivalled anywhere else in the Physical Therapy Industry which makes clients "SAD" to say "goodbye" when their pain is gone and treatment has ended…
Why "scepticism" about starting Physical Therapy exists largely because of the poor attitudes of the large corporate owned clinics, (whose PTs see as many as 3-4 patients an hour) and how, without our option to TALK TO A Physical Therapy SPECIALIST ON THE PHONE FIRST, some clients would never have made it through the front door in the first place (…and would still be suffering now).
Why no-one ever leaves Andrew's Physical Therapy clinic un-happy and how it's all to do with what we "SAY" (and offer), as much as what we do…
Plus, because we want you to make the BEST decision about Physical Therapy, without feeling rushed or pressured into booking, we'd like to give you a Complimentary SPECIAL REPORT.
It's written exclusively for our next clients like you (by Top columnist, Andrew), and has been 15 years in the making. He's done it by compiling all of the questions he's ever been asked about Physical Therapy by previous clients, who were once just like you… struggling to enjoy their health and considering trying Physical Therapy, but just wanted to know a bit more about it first, before confirming an appointment to go an see one.
It really helps YOU make the BEST decision. The one that ensures you find a Physical Therapist that is "just right for you". Maybe that's what type of information you came looking for in the first place?
You can see ALL the real life stories AND get your Complimentary Special Report from Andrew, to help you make the best decision, when you click here:
"Get Immediate Access To Your Special Report And All The Client Success Stories..."
Just Fill Out The Form To Start Watching All These Real Client Success Stories And Get Immediate Access To The Special Report Which Answers ALL Of Your Questions On Physical Therapy...
You Are Going to ENJOY Seeing Wonderful Stories Of A Speedy RETURN To Great Health and Being Active Without Pain, From Real Clients of AID Performance Physical Therapy…
When I first met Andrew after I broke my hip I said to him I'm an active person and this is what I like to do, I like to ride horses, I walk and he said OK then that's our goal - that you're going to be able to do those things after you complete your therapy. There were times that I thought I would never ride again but I'm riding more than ever, I own more horses than ever and just generally enjoying my life...

Early 60s, Middleburg, VA
I had a fresh quad injury and I came to AID PPT because I had great references from everybody and I came here and met them I knew it was the right place to be. The service is awesome, it's great all the way across the board with everybody, it's a very professional and friendly environment. Coming here worked, coming here I got better. I feel better now than before my injury!

Early 30s, Lansdowne, VA
You're Also Going To See Answers To ALL Of These Important Questions Which Will Help You Choose A Physical Therapist That Is "Just Right For You"...One That Will Get You Active And Healthy Again, Fast!…
How long before you feel a positive difference from Physical Therapy? Hint: It's likely to be LESS than what you currently think and it has EVERYTHING to do with what YOU do and when.
WHAT actually is Physical Therapy anyway? Most people don't even know the truth because many PTs don't take the time to explain it right before an appointment is booked.
Why you shouldn't even consider going to the lower cost in-network option, NOT if you want "hands-on" type treatment, the kind that really does work FAST. Hint: You might be SHOCKED when you discover the real reason why the big corporate in-network providers rarely does this now.
"Does Physical Therapy help some like ME"? That's answered in-depth.
"Isn't it true that Physical Therapy is just for young people who get injured from playing "soccer"? …NOT at Andrew Dombek's AID Performance Physical Therapy clinic it ISN'T (Find out why we hardly ever see injured "soccer players" and which "athletes" we do).
When is the BEST (and safest) time to be doing exercises? And discover why most exercises don't work like the person doing them hopes. Tip: It has everything to do with when they're done, not so much what is done.
"Get Immediate Access To Your Special Report And All The Client Success Stories..."
Just Fill Out The Form To Start Watching All These Real Client Success Stories And Get Immediate Access To The Special Report Which Answers ALL Of Your Questions On Physical Therapy...
Take a Look Around The Clinic...
Interested to Learn More?
Choose Which One Works Best For You...
Just click one of the buttons above and then fill out the simple form.
Claim Your Free Guide
Before You Hire Your Next PT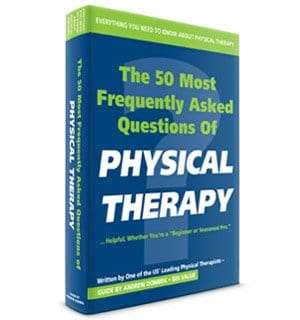 The Top 50 FAQs of Physical Therapy - All Answered Honestly In One FREE Special Report You Can See Instantly
"Fill Out The Form To Get YOUR Special Report That Answers The 50 Most Frequently Asked Questions About Physical Therapy"
Leave Your Details And Get All This Advice NOW...
"AT LAST! A PHYSICAL THERAPY CLINIC THAT GIVES AWAY HELP & ADVICE WITHOUT YOU EVEN HAVING TO MAKE AN APPOINTMENT TO GO AND SEE THEM…"
"Tell Us Where It Hurts..."
And We'll Send You Our Best Advice And Top Tips In One Special Report...
It's FREE! Just Look Below And Find The One That Works Best For You...
Ease neck or shoulder pain without pain meds before it causes severe headaches.
Ease foot or ankle pain and get back to exercising again within days.
Strategies to get fit and stay fit that only the pro athletes know and use.