http://https://youtu.be/ufaV27YI2Nw
Hey Guys its me Andrew Dombek from AID Performance Physical Therapy. I wanted to give you some tips in anticipation of this weekend Loudoun Half Marathon in Ashburn for any of you that are running.
The weather forecast for this weekend on Sunday is supposed to be in the 50's and rainy so what better time to give you tips to prepare for running and I asked our elite runner Rochelle Sceats-Basil who was sponsored by us who just finished the Boston Marathon this year. She did a tremendous job overcoming hip pain and a tibial stress fracture in order to compete in her second marathon, which happened to be the Boston Marathon. She finished at 2:58 after collapsing three times during the race. It was a courageous effort and our applause goes out to her as well as Hannah Pearson who also overcame some shin splints to run a time of 3:31. Congrats ladies for a heroic effort, we are really proud of you. Rochelle was in today for her post race dry needling treatment and massage and I asked her for some tips that you would give the runners competing this weekend at the Loudoun half or any long distance running in the rainy cold weather and she gave me 5 of her top tips to give out.
The first suggestion was to wear a hat. No one likes to get rain in their face and the hat will help protect and keep the rain out of your eyes. Some people like to wear glasses however it is not ideal to wear glasses in the rainy weather. Second she suggested wearing a short sleeve shirt rather than a long sleeve shirt. The more clothes you wear the longer your sleeves are the more surface area that will collect water which will result in you running and feeling heavier by the end of the race. I hate being in soaked clothing. Third, wear tight fitting clothing. Do not wear loose fitted clothes for the same reason that we do not want to accumulate water. In additional loose fitted clothing will create more chaffing and no one likes to get good chaff going on. Next she suggested people do not like wearing their good socks because it's raining outside. That is wrong. You got to wear your nice merino wool socks. She suggested feature socks with a merino blend and you can check them out at our local Potomac River Running in Ashburn, which is managed by our friend Pat. He is great and can fit you for the right pair of socks or shoes.
He also gave us a donation gift card for a free pair of shoes for our raffle at our tent this weekend during the Loudoun Half you can win a gift card to Potomac River Running. The last tip is to hydrate. Hydrate even though it is going to be raining and cool, you still want to hydrate the same amount that you would normally if it was not raining outside. Just because it is rainy and cool does not mean you should not hydrate as much. It is always important to hydrate leading up to the race as well as during and after the race as well. In summary wear a hat, wear a short-sleeved short, wear tight clothing, wear a good pair of merino wool socks, and hydrate properly.
For more information on how to run further or faster without pain check us out on our website for our tips report entitled "8 ways to run further for longer without pain" or "7 Secret recovery strategies: How to get fit and stay fit in world record time that only the pro athletes know and use". We have several pro athletes that are clients and we have asked them for tips as well as experts in the field and compiled them into these reports that you can download on our website www.aidppt.com. You can also get a hard copy via email or mail by calling the office. We will also be offering these reports at the Loudoun Half Marathon this weekend in Ashburn at the Broad Run High School. We are signing people up for free discovery sessions at the race if you want to learn how to run further and faster with greater efficiency improve upon your PR for your next race. As well as tips and tricks to get over nagging injuries we can help with that without the use of medication, injection or surgery. We avoid advice that the doctors give you to stop running unless you have a broken leg, we instruct you on how to run properly with good form so you can continue to run. You may not be able to run as far for as long but we keep you running. We look forward to hearing from you.
Feel free to email me at adombek@aidppt.com. I answer my emails personally.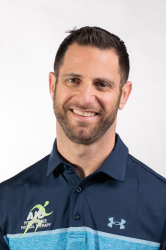 Latest posts by Andrew Dombek, PT, MSPT, CMTPT, CGFI
(see all)